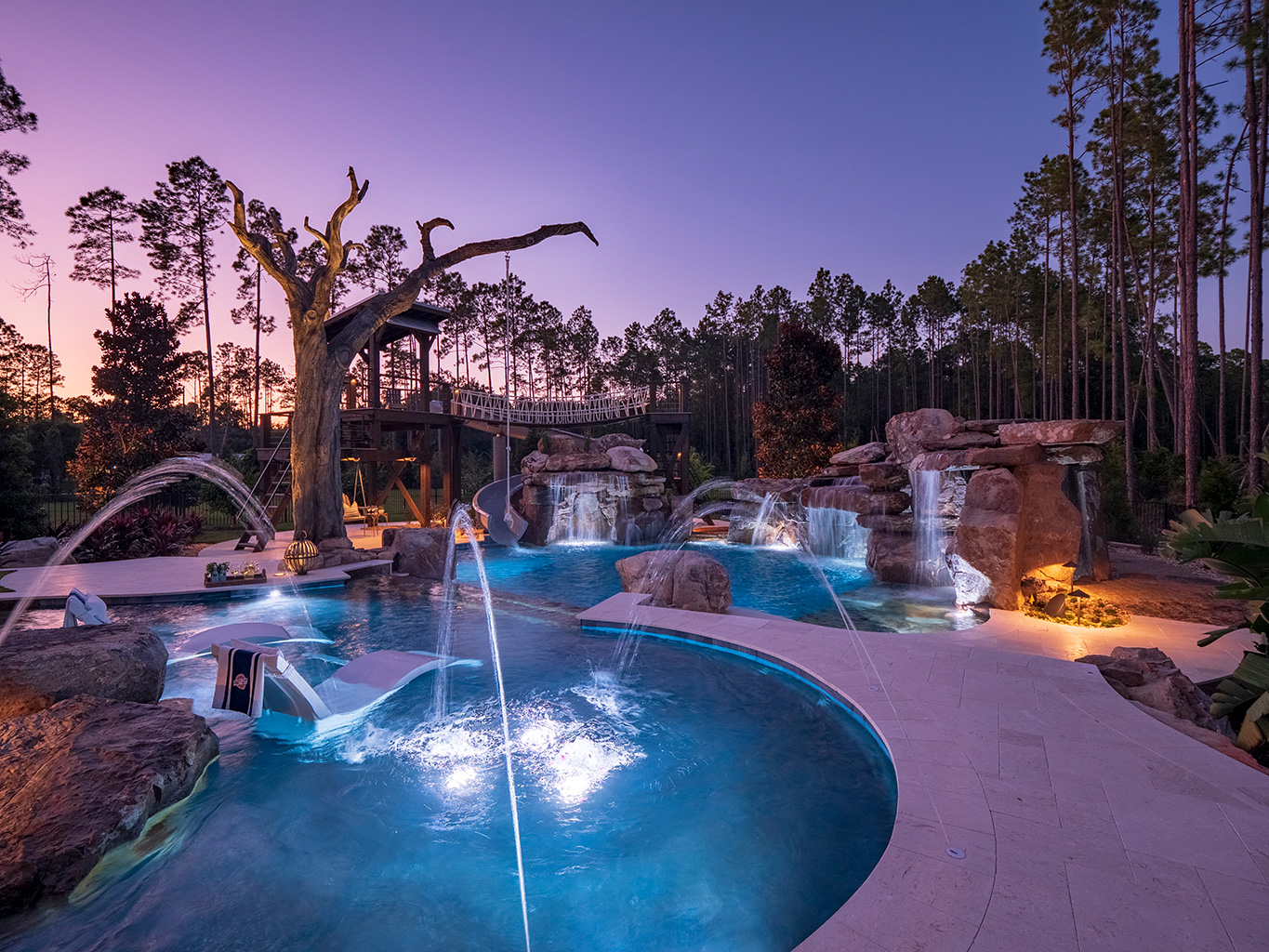 Overview
The client was building a new modern farmhouse-style home and wanted an epic backyard to complete their dreams. A mega pool with huge grottos was a must. The client has 3 children and knew they were still kids at heart as well. We designed a spot for little kids to play safely on the large sun shelf with a beach entry. A set of infinity rock steps lead down to the lower pool. The client likes to get a little rowdy when they go outside. So we added a 57′ long waterslide and a 20′ tall artificial oak tree with a rope swing. We built a modern farmhouse-style custom fort to match the house and to support the slide. A suspension bridge over the slide was the final touch for the pool. The client also wanted a shady spot to grill out. So we designed a 50′ long attached cedar pergola with stone columns and gas torches to cover the outdoor kitchen and provide a shaded seating area. We designed a natural boulder fire pit to provide the family an area to relax after getting out of the pool. Finally, we included a high-performance outdoor audio system so the client could crank out some of their favorite classic rock while jumping off the rope swing!
Includes
1500 sq. ft. lagoon-style pool with swim-in grottos and rock waterfalls
Flagstone beach entry and sun shelf with infinity edge rock steps leading to the lower pool
20′ tall artificial oak tree with rope swing
Modern farmhouse-style custom fort with a suspension bridge
57′ long flume style waterslide
Natural stone outdoor kitchen
50′ long attached cedar pergola with stone columns and gas torches
Natural boulder gas fire pit
High performance outdoor audio system
"We put our trust in Pratt Guys and it worked out really well. They know what they're doing."
Jennifer M.